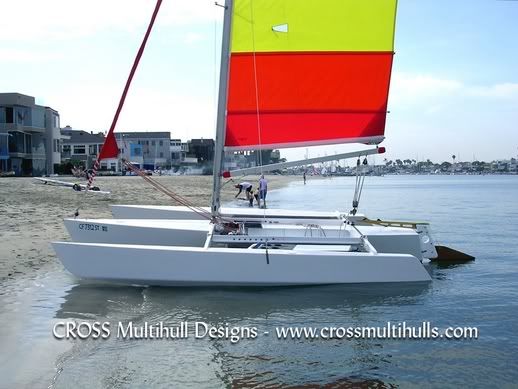 The Cross 18 is a home built trimaran that can be sailed single handed or with
Grand Ma and the keiki. There is even room for a cup holder.

The construction used here is mahogany plywood. Thicknesses of crossectional frames,
decks and below the chine of the main hull are 1/4". All other skin thicknesses are 1/8".
West System® epoxy for adhesives and coatings are used throughout. Four ounce
fiberglass cloth is used for added strength.
Specifications
Length Overall
18' 0"
Draft Board Down
3' 6"
Length at Waterline
17' 1"
Draft Board UP
1' 3"
Beam Overall
12' 0"
Sail Area
200 sq. ft.
Beam Folded
6' 6"
Boat Weight
400 lbs.
Hello Joe,

Great blog! I would like to extend an invitation to you to sail on my CROSS 18.
I know you are based in the bay area and I am in Southern Cal. Still, if you are
ever in the area I would be glad to have you aboard. Even if you select
Chris Whites design as your favorite. ;-)

Jeff Turner
CROSS Multihull Designs
A dialogue follows:
Joe:
Thanks for the kind words. I would love to go out on your
CROSS 18
if
I get down to SoCal. Can the
18
take SF Bay or would she be overwhelmed?
Jeff:
I am not familiar with typical conditions there so I am not sure how to answer this.
I sail all the time in the outer harbor and open ocean in Long Beach and Los Angeles.
There are times when I would like to be able to reef the main but am not set up for it.
Photos I have seen from Latitude 38 suggest that some days would be great, some a
real challenge and others better spent watching the big guys sail. The bay area seems to
spawn a heartier sailor than what exists down here.
The CROSS 18
is a very fun, responsive and forgiving. My favorite days are solo in the
Catalina channel. Deep blue water and the boat charging over the swells, sitting aft on the
windward float you can see the whole boat. The personality and wildness of the boat really
begins to show. I hope you can come down and sail on her some time. The Chris White
design looks like a great boat as well. It is a bit bigger too.
Joe:
Do you have photos of the
18
under sail out in the channel? How about a video?
I'm biting on the lure you threw in the water. How fast can she go? How does
she handle in rough seas? Being wet doesn't bother me unless I forget to
wear my wetsuit. What's the set up time? Someone on SA said the Discovery
20 takes 3 hours to set up, of course he was trying to convince me to build
a Tremelino instead.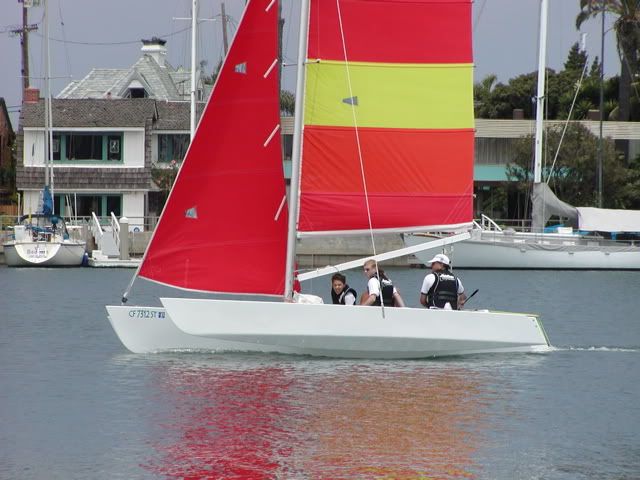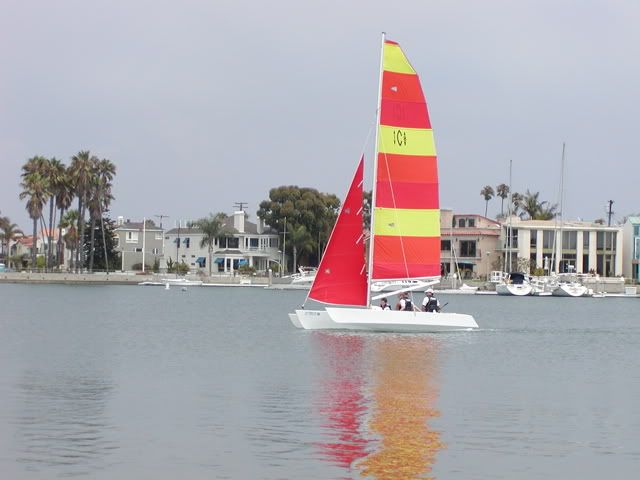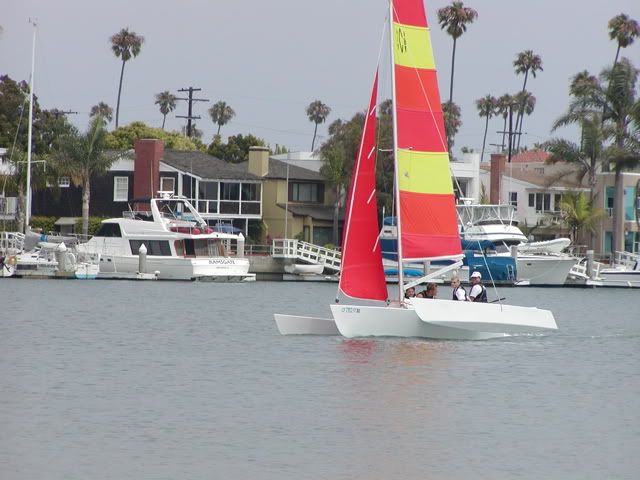 Jeff:
This is all I have for sailing shots and they are all in the bay. The boom has been
repositioned since these were taken. I will see if I can get some video for you. As for set-up.
Including stepping the mast, the process takes just under an hour. I currently store the boat at the
Alamitos Bay Yacht club with the mast already stepped. Set-up time solo is about 30 minutes.
As for weather handling goes, she is a strong hull and slices through chop very well.
Set up of the Cross 18.

The Cross 18 under sail.

Thanks Jeff!
Tags:
boatbuilding
,
cross 18 trimaran
,
multi-hull sailing
,
trimarans
,
sailing
Powered by Qumana