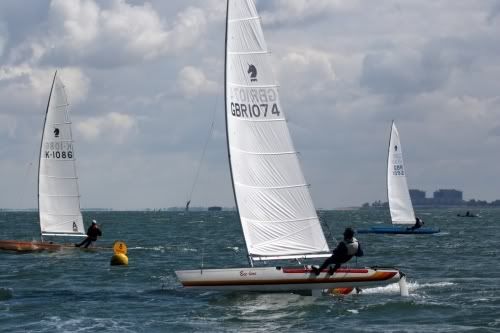 The Unicorn Cat in action.
Dog you can build this puppy at home.

Here are her specs:
Single handed 'A' class cat


Trapeze and una rig


PY of 775, ISAF 1.086


Length 5.49m (18ft)


Beam 2.29m (7ft 6in)


Sail Area 13sqm


Mast Height 7.93m (26ft)


Latest Sail No 1098


Portsmouth Yardstick of 775 compares with a
Tornado at 693 and a Hurricane 5.9 at 691 and a
Shadow with a provisional 732


ISAF rating of 1.086 compares with a Tornado
at 1.004, a Hurricane 5.9 at 1.009 and a Shadow
at 1.069


Superb boat in light winds with high performance
up to F6 due to the flexibility of the rig settings


Daggerboards for high efficiency and superb
pointing


Flexible mast with loose footed main. Adjustments
to outhaul, downhaul, kicker and lower shrouds.
With a full cut sail this gives terrific scope for control
of sail shape


Trapeze for the ultimate sailing challenge


Una rig for simplicity of sail handling
(13 sqm sail area to A class specification)


Plans available for the skilled home builder from
the RYA.
Technorati Tags: beach cats, boats you can build, catamarans, catamaran sailing, multi-hull sailing, sailing