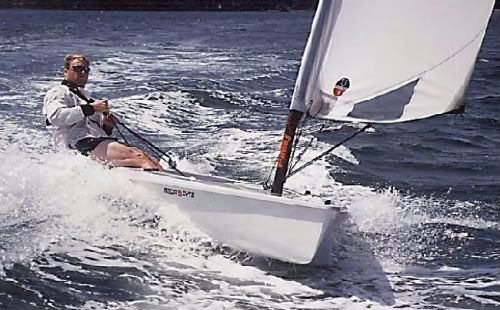 Oops, that's not a Force 5, it's a Megabyte.
It seems a lot of former Banshee and Force 5 sailors are making the transition over to the Megabyte. It seems to fit the bill. A boat that can be sailed solo or with a passenger.
Long before Farr Yacht Design Ltd. established its presence as one of the preeminent designers of offshore racing yachts, Bruce Farr and partner Russ Bowler had already established themselves as world class dinghy designers and helmsmen. While a dinghy design by the Farr office might be a surprise to some, it was not to Ian Bruce. Himself an international calibre dinghy sailor, and one of the owners of Performance Sailcraft, he just happened to be looking for a new boat for his company.

Ian was looking for a boat that would fill the demand he was getting for a boat in which parents could take their children on the water and teach them how to sail. The Byte, which he designed, was too small having been designed for the 100 - 150 lb. sailor. Therefore, what he was looking for was a boat that could carry some "serious weight" with a proper cockpit laid out for two people, but with the simplicity of a single sail. It would have no wires holding up the mast and would have a lightweight, tapered, carbon fiber tube. It would be very fast, yet, it would be a pleasure to sail. In addition, it would be light enough (130lbs) to throw up on the car top making it a truly recreational product.

Finally, and for purely selfish reasons, he wanted a boat that sailors well over 200 lbs could singlehand competitively with rig controls that make the boat easy to de-power, a sort of "Gentleman's Finn"!

The fact that the Megabyte is an attractive, very fast yet stable, exciting boat was a "given" from day one with Bruce Farr and Russ Bowler behind the design of the boat.
Specifications:
Length: 14ft. 3ins.
Beam: 5ft. 2ins.
Sail Area: 100 sq.ft.
Weight (Car Top): 130lbs.
Optimum Singlehanded Weight: 225lbs.
Optimum Doublehanded Weight: 200-400lbs.
Construction: Glass Reinforced Polyester/
Foam Sandwich
Sailcloth: 2 Mil mylar/polyester scrim
Dimension Polyant PM05Technorati Tags:
dinghy sailing
,
sailing