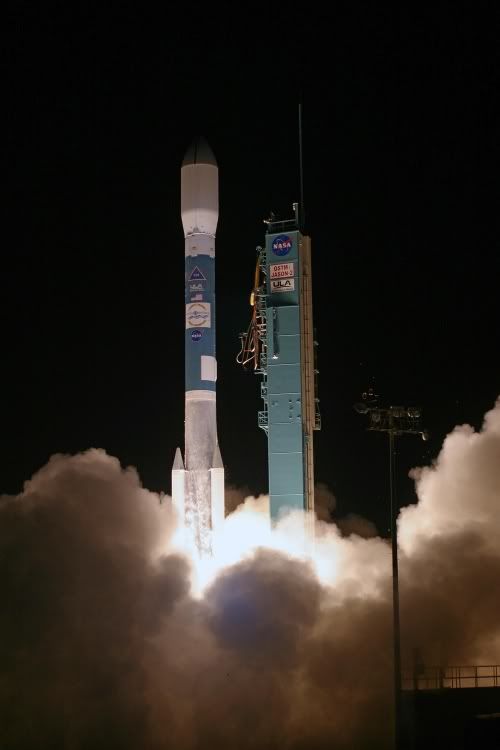 PASADENA, Calif. -- A new NASA-French space agency oceanography satellite launched on June 20th from Vandenberg Air Force Base, Calif., on a globe-circling voyage to continue charting sea level, a vital indicator of global climate change. The mission will return a vast amount of new data that will improve weather, climate and ocean forecasts.

With a thunderous roar and fiery glow, the Ocean Surface Topography Mission/Jason 2 satellite arced through the blackness of an early central coastal California morning at 12:46 a.m. PDT, climbing into space atop a Delta II rocket. Fifty-five minutes later, OSTM/Jason 2 separated from the rocket's second stage, and then unfurled its twin sets of solar arrays. Ground controllers successfully acquired the spacecraft's signals. Initial telemetry reports show it to be in excellent health.

"Sea-level measurements from space have come of age," said Michael Freilich, director of the Earth Science Division in NASA's Science Mission Directorate, Washington. "Precision measurements from this mission will improve our knowledge of global and regional sea-level changes and enable more accurate weather, ocean and climate forecasts."


Measurements of sea-surface height, or ocean surface topography, reveal the speed and direction of ocean currents and tell scientists how much of the sun's energy is stored by the ocean. Combining ocean current and heat storage data is key to understanding global climate variations. OSTM/Jason 2's expected lifetime of at least three years will extend into the next decade the continuous record of these data started in 1992 by NASA and the French space agency Centre National d'Etudes Spatiales, or CNES, with the TOPEX/Poseidon mission. The data collection was continued by the two agencies on Jason 1 in 2001.
Continue reading here.
Photo credit: Carleton Bailie/United Launch Alliance
June 20, 2008
Technorati Tags:
jason-2
,
ocean surface topography
,
ocean survey
,
satellite