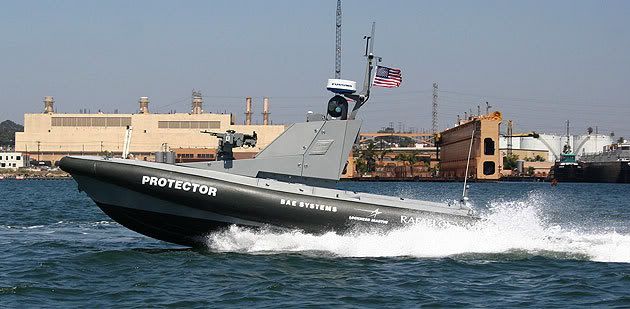 PROTECTOR Unmanned Surface vehicle

BAE Systems has partnered with RAFAEL and Lockheed Martin to offer the U.S. Navy the PROTECTOR, an unmanned integrated naval combat system. The PROTECTOR has a stabilized gun and is able to conduct a wide spectrum of critical missions while eliminating unnecessary risk to personnel and capital assets.
(You've got to love those guys in Marketing with their pithy copy.)

Stealthy, fast and highly maneuverable, this unmanned vessel identifies its targets through an electro-optical system and has day and night strike capabilities. Highly autonomous and remotely controlled, the PROTECTOR can successfully operate with general guidance from a commander and operator.
The PROTECTOR's anti-terror mission module payload includes sensors and weapon systems. The search radar and the Toplite electro-optical (EO) pod enable detection, identification and targeting operations.
The weapon systems are based on RAFAEL's Typhoon remote-controlled, stabilized weapon station, capable of operating various small caliber guns. The highly accurate, stabilized weapon station has excellent hit-and-kill probability.
The PROTECTOR is mission reconfigurable through its plug-and-play design, allowing utilization of various mission modules, such as force protection anti-terror surveillance and reconnaissance, mine warfare and electronic warfare.
Technorati Tags:
unmanned boats
,
navy